The most influential diamond cutters throughout the ages
Today's most popular diamond cut is the round brilliant and if we analyse the history of its complex shape, we can find many stories of how we've arrived at this beautiful and intricate design. We wouldn't have the round brilliant without an evolution of cutting techniques and the scramble for new styles to suit new eras. In this article, we'll look at some of the diamond cutters whose work has helped us reach where we are today, step by step.
Lodewyk van Bercken

Lodewyk van Bercken was a Flemish diamond cutter who worked during the 15th century. He invented the scaif, a wheel that ran slick with olive oil and diamond dust. Due to the hardness of diamonds, polishing had always been a problem, but the scaif meant that diamond dust could be used to create small and precise surfaces on diamonds, greatly increasing cutting accuracy for all artisans of the era. This invention made new diamond cuts possible, leading to an increase in diamond popularity and making van Bercken one of the most famous diamond cutters of the era. This attention led the Duke of Burgundy to commission van Bercken to cut the famous Florentine Diamond, a double-rose cut diamond with 126 facets that is now lost to history.
The scaif led to designs with new levels of precision, and van Bercken himself was responsible for pioneering the pear cut and the pendeloque. The pear cut features 56 facets, compared to perhaps 18 on some of the diamond cuts that came before it such as the old single cut, clearly showing that the scaif brought new possibilities to the world of diamond cutting.
Lazare Kaplan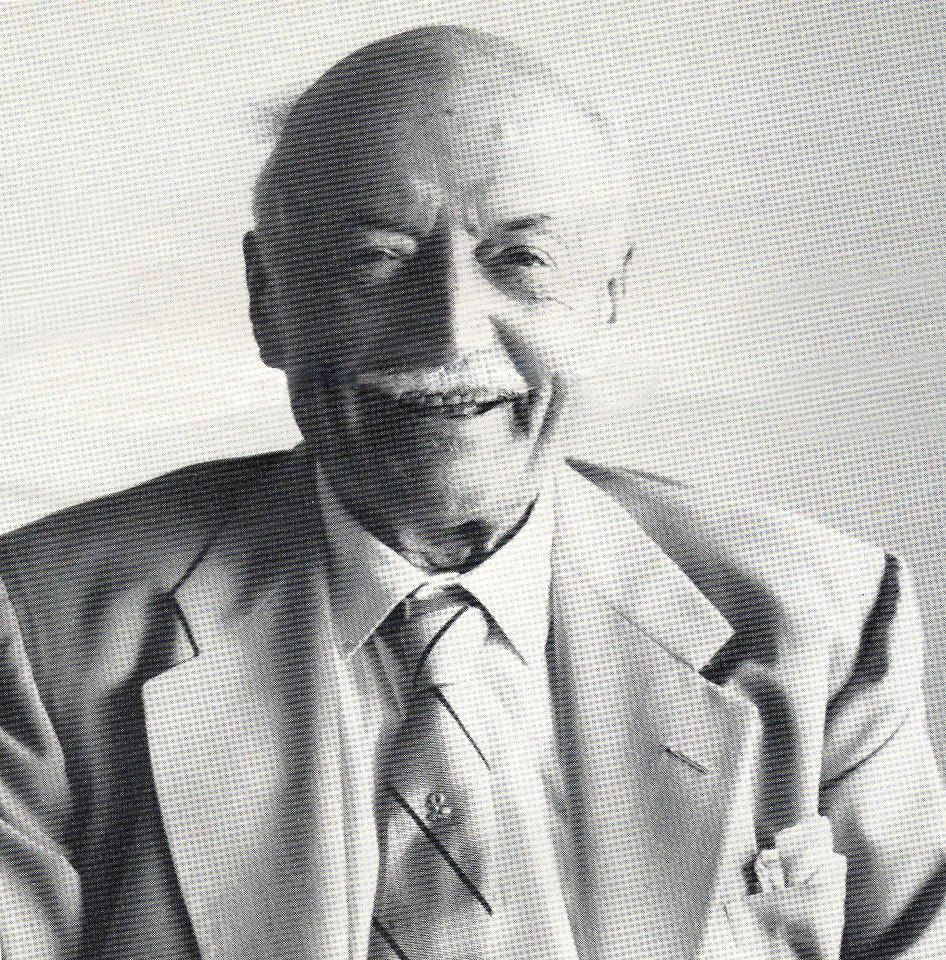 Lazare Kaplan lived throughout the great depression, which was one of the worst times for any business and, in his lifetime, he had to financially rebuild himself more than once. He built his reputation from his business skills, his expertise and from working with his family to pioneer new diamond cuts.
He was born in Belgium in 1883 into a family of diamond cutters, and at just 13 he started an apprenticeship to cut diamonds under his uncle's tuition. He soon built a reputation for producing pristine diamond cuts from rough stones that were difficult due to their flaws. At only 20, with a reputation as one of Antwerp's most renowned cleavers, he started a business of his own but with the outbreak of WW1, this business was destroyed. He happened to be visiting family on holiday in New York at the time and while his personal safety was secured, he was virtually stranded. He decided to open a small boutique in Manhattan, later opening a factory and an apprenticeship programme in Puerto Rico. In 1919, his cousin Marcel Tolkowsky, who had been studying maths, designed a mathematical blueprint for a diamond cut with optimal internal reflection; a formula that is used by Lazare Kaplan International to this day. Disaster struck again in 1929 when the Wall Street Crash sent many businesses into a death spiral, but Kaplan was confident in his skills and reputation so used his personal savings to start his business once again.
Perhaps his biggest professional claim to the record books came when he was asked to cut the Jonker diamond in 1936, which was amongst the largest uncut diamonds in the world at the time. Whereas others had offered to preserve carat weight, Kaplan's plan to cut the diamond prioritised fire and brilliance at the expense of some weight and resulted in 13 cut stones, the largest of which is now called 'Jonker I'.
Joseph Asscher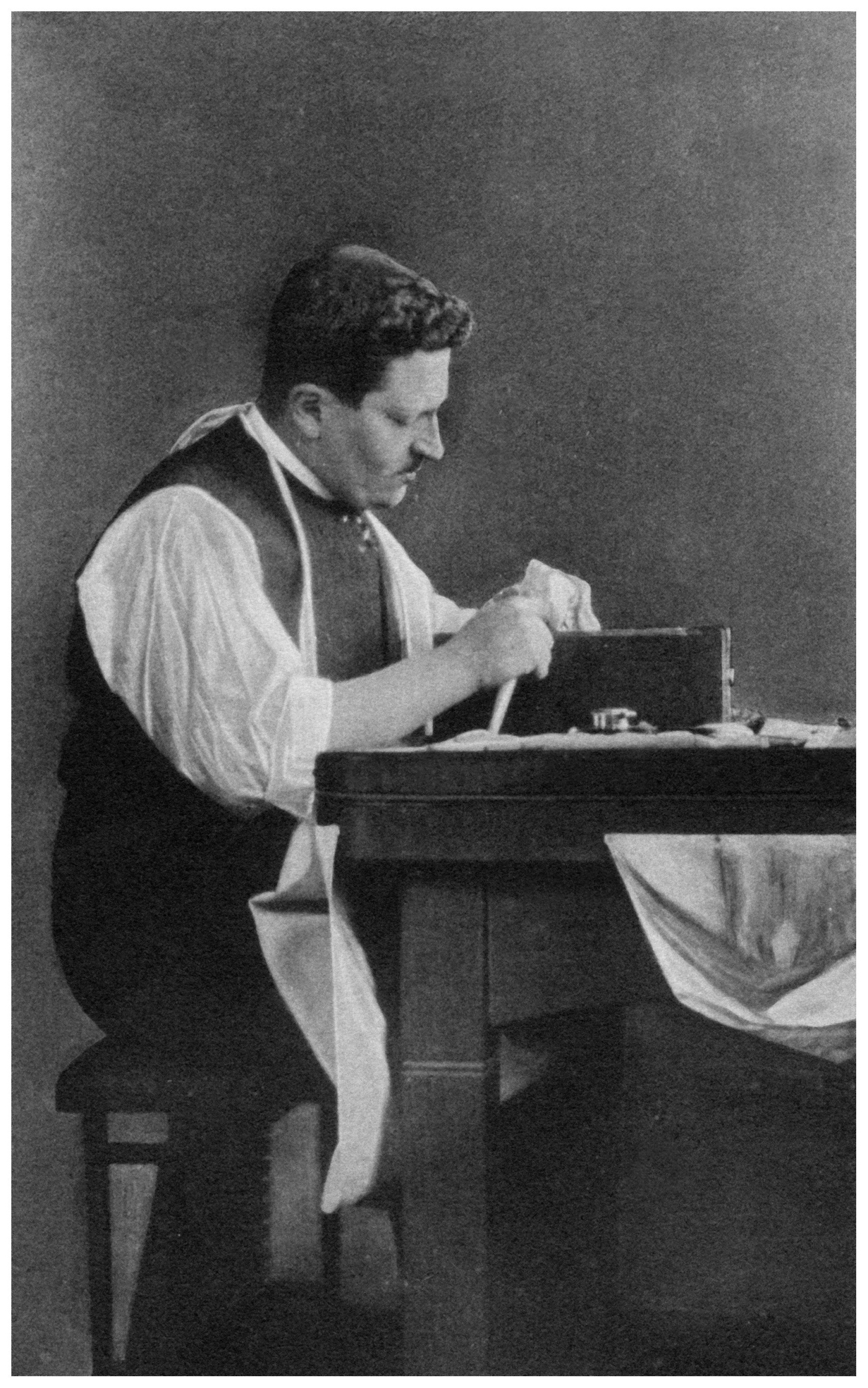 Joseph Asscher is one of the few people on this list with a diamond cut that bears his name, the Asscher cut, and although the signature cut patent itself has expired, his legacy continues. Born into a family of diamond experts, both he and his brother Abraham became renowned gemcutters and founded the Asscher Diamond Company, a family enterprise that has gained royal attention.
The Asscher cut was invented in 1902 and drew influence from the popular emerald cut with key differences being chamfered corners, a squarer shape and an innovative culet. The culet is the bottom point of the diamond, and while the emerald cut usually has no culet, or instead an elongated one, the Asscher cut has vertical facets that converge underneath the diamond, which appears as an X-shape in the diamond from above. The cut's popularity soared during the art deco era because of the interest in engagement rings at the time.
Asscher's reputation grew when he was asked by Edward VII to cleave the Cullinan Diamond, the largest rough diamond ever mined at 3,106 carats. Despite the setback of breaking a knife on the first attempt, the Cullinan was successfully cut into nine major stones and almost a hundred minor brilliants. The largest major stone was given a 530.2-carat pendeloque cut and became known as the Great Star of Africa, currently residing in the British Crown Jewels.
Joseph Asscher's legacy continues through the company he founded, which is now known as the Royal Asscher Diamond Company when Queen Juliana of Holland gave it a royal title in 1980; it remains family-owned until this day.
Marcel Tolkowsky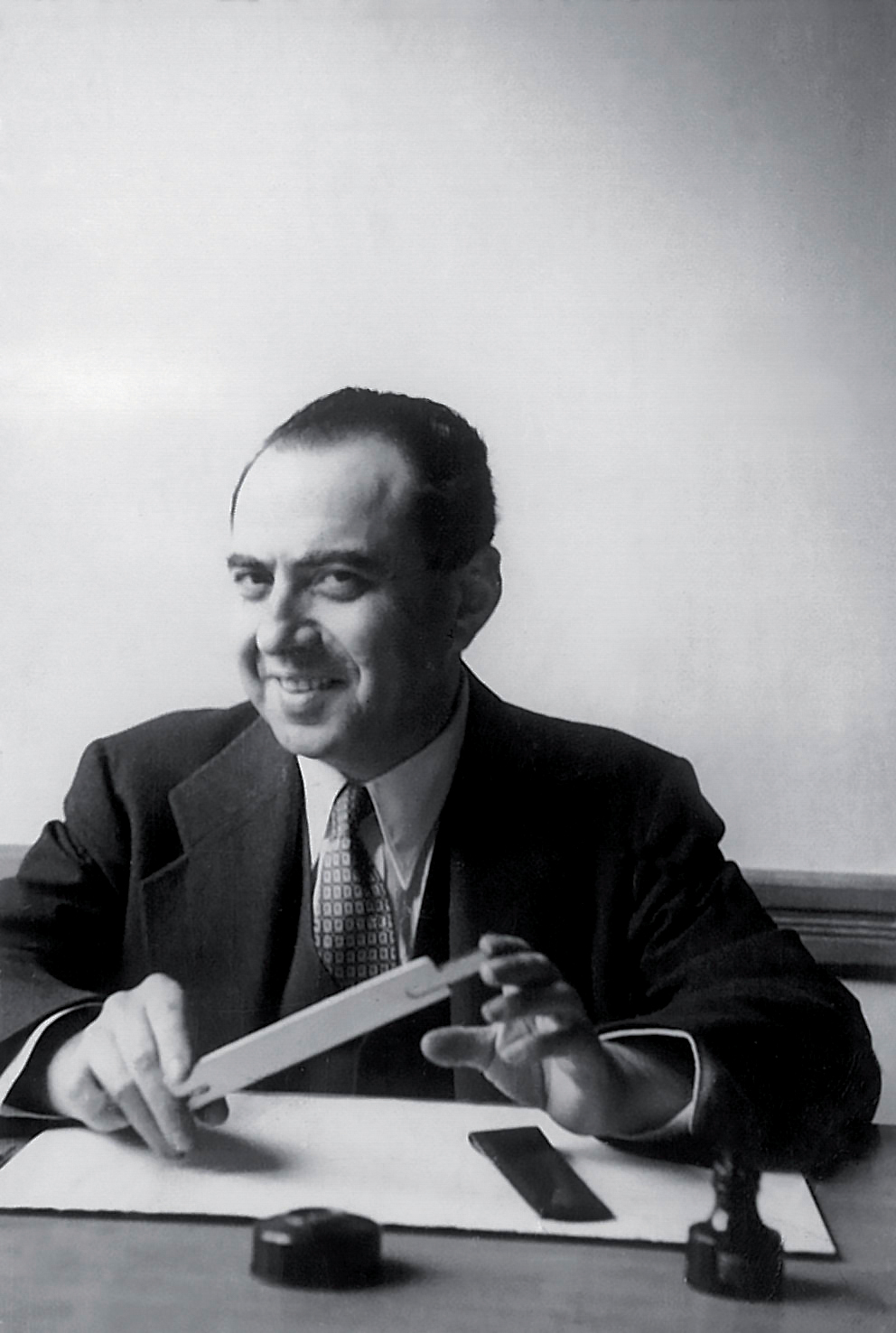 Many of the experts on this list have cut some of the most significant diamonds in the world. While Marcel Tolkowsky is not associated with specific examples of diamonds, it is arguable that his contribution to diamond cutting outweighs others here as he created the mathematical formula that led to the modern round brilliant diamond. Born in 1899, he was an engineer by education and later studied a mathematics PhD at the University of London, where he conducted research into the light paths within diamonds that produce optimal light return. This resulted in a book called Diamond Design, where he offered specifications for what has become the modern round brilliant. Tolkowsky's ideas were design principles and guidelines rather than a strict template, examining concepts like ideal angles for the crown and pavilion so that light would be retained within the diamond. This flexibility in design means that the round brilliant has continued to see variations and changes in a desire to further improve Tolkowsky's ideas. Notable variations include the practical fine cut, the Scandinavian standard and the Eulitz brilliant – which claims to offer further refined dimensions that provide an improved light return. Most variations involve small changes to the pavilion and crown angles or dimensions, perhaps the most drastic being between the Tolkowsky brilliant and the ideal brilliant cuts with 34.5- and 41.1-degree crown angles, respectively. Other common variations include flat culets and girdles that have between 32 and 96 facets.
Sir Gabi Tolkowsky
Diamond cutting expertise is often passed through families and in some cases becomes a dynasty; there are few better examples of this than with Gabi Tolkowsky, a renowned diamond cutter from a renowned family. Born in Israel in 1939, he was trained by his father and is also the great-nephew of Marcel Tolkowsky. Even at the beginning of his career he was no stranger to ambitious projects and, working under his father's supervision, he was charged with polishing a 100-carat emerald cut diamond as his first big project. In 1975, he became the chairman of Diatrada, a subsidiary of DeBeers, where he had the chance to work on some incredibly exclusive diamonds.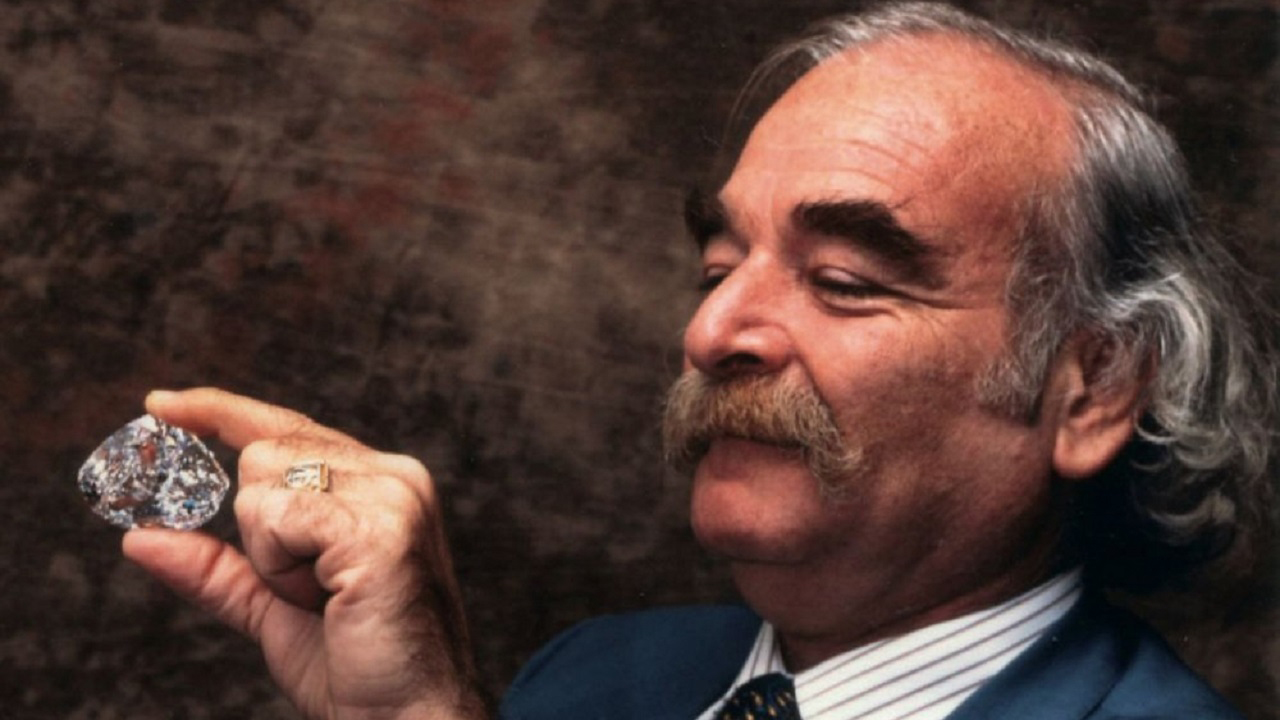 Notably, he was asked to work on the Centenary Diamond, which was originally discovered in 1986 as a 599-carat rough diamond. Gabi chose to hand kerf the diamond using a blade to avoid the risk of vibration or heat that a saw or modern laser cutting might pose. The project took three years, and resulted in a diamond weighing 273.85 carats with 247 facets. It is one of the largest and most notable top-colour diamonds in the world. Perhaps his most significant work came when he and his son were asked to work on a brown, 755.5-carat diamond that had been mined in South Africa. The stone was so exclusive that a specific underground workshop was constructed to allow vibration-free cutting, and it was carefully cut to 545.65 carats, making it the largest cut stone in the world. It is now known as the Golden Jubilee Diamond and resides in the Thai crown jewels.
Continuing the legacy of his family, he pioneered his own round-brilliant cut known as the Gabrielle round brilliant; with a shape formed of over 105 facets, it is said to be even more brilliant than the classic round brilliant cut. In 2003, he received a Belgian knighthood with the title Chevalier de L'Ordre du Roi Leopold II as a result of his work.
Brian Gavin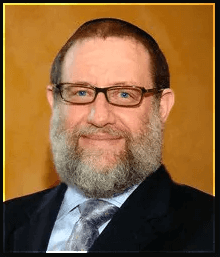 Gavin was born in 1957 as a fifth-generation artisan from a family of diamond cutters. He has proven his worth as a diamond expert not only in cutting but also in their appraisal, and is well-known for creating the hearts and arrows grading system. Hearts and arrows diamonds are a version of the round brilliant, cut to 'ideal' proportions but with a specific faceting pattern. When viewed from above, a hearts and arrows diamond will show a specific pattern of repeating arrows and, when viewed from below, it will show eight symmetrically-spaced hearts.
Gavin began his career working in a family-owned diamond factory, learning many aspects of the production and cutting process. He moved from South Africa to the US, building his reputation and, in 1998, produced a refined version of this hearts and arrows cut which he termed "a cut above"; this cut shape is also sometimes referred to as a "super ideal" cut.
After consulting for world-leading diamond factories and conducting extensive research, he unveiled his grading system in a paper at the inaugural International Diamond Cut Conference in 2004, putting forward a strict classification system for this distinctive cut. In 2009, he created a hearts and arrows variation of the cushion cut; he remains a well-known expert on diamonds in general, particularly the heart and arrows variation, and his expertise is sought-after to this day.
Other noteworthy diamond cutters
It would be difficult to create a definitive list of all the noteworthy diamond cutters, so here we have included a few names who we also felt deserved a mention.
Basil Watermeyer – in 1971 he created the Barion cut, titled from he and his wife Marion's names in combination. While the Barion cut itself has not proved quite famous, it was a significant influence on the princess cut, which is amongst most popular modern cuts.
Henry Grossbard – born in Austria and moving to the US during World War II, he initially apprenticed as a diamantaire before honing his skills and later inventing the radiant cut in 1976, the shape being a combination of the emerald and round brilliant cuts. He died in 2005 and his son currently runs his company, RCDC corp.
Standing on the shoulders of giants
The history of diamonds can't be told without acknowledging the technological and artistic contributions of many of these great gemcutters. This combination of history and the continued popularity of diamonds is why many people feel they are buying prestige when they purchase modern cuts such as the round brilliant.